Ever since my early teens, I've always had a love for Japanese Role-playing Games.
In fact, outside of the incredibly small handful of games that could be collectively referred to as "3D Collectathon Platformers", I'd say that JRPG's are most likely my favourite genre of video games.
I love the varied battle systems, the often Anime inspired aesthetics, the wacky and unconventional style of storytelling, the joy of levelling up my characters into freaking god-like entities by battling hoards of enemies for hours and hours and hours… And yet, that last one in particular is something that I often see people slamming as a negative aspect of JRPG's all the freaking time.
"It's a grindfest.", "It's just a dungeon crawler of constant battles.", "The game relies too heavily on grinding and enemy encounters to pad out its length.", "How can you find doing the game repetitive task over and over again fun?"
While I can understand these criticisms, I find them to be terribly misguided and some what dismissive… Even slightly ignorant.
JRPG's can often be one hell of a grindfest. JRPG's are heavily focused on their combat mechanics and engaging with mobs of enemies, and have very little in the way of open exploration, outside of an alternative pathway in a dungeon that may lead to a hidden treasure chest, an optional superboss or some kind of special item. JRPG's will often require you to go out of your way to fight more enemies than you would possibly meet naturally on the linear path the story takes you on in order to stand a chance at overcoming the games more difficult challenges.
But, my question is, how is any of this a bad thing?
Truth be told, I honestly don't consider, nor have I ever considered, grinding in JRPG's to be a problem, and it's rarely been something that's managed to "ruin" the experience for me.
Because if I'm playing a game I enjoy, where the gameplay is primarily focused around a battle system I find fun with game mechanics that are satisfying to mess around with, how is getting to do more of the things you find fun in the game even remotely a problem? If you truly find a game to be an enjoyable experience, grinding shouldn't really be all that much of a problem, because the system that you're using to grind is something you find enjoyable to begin with.
Now I'm not here to defend every single game that has the potential to be a grindfest. There are plenty of games, mainly older RPG's on the Super Nintendo and the like, that have level caps that are absurdly difficult and quite frankly painful to reach. Reaching the maximum level in Tales of Phantasia for example, is an almost inhuman accomplishment, and it's anything but fun because it takes forever and the battles take so long.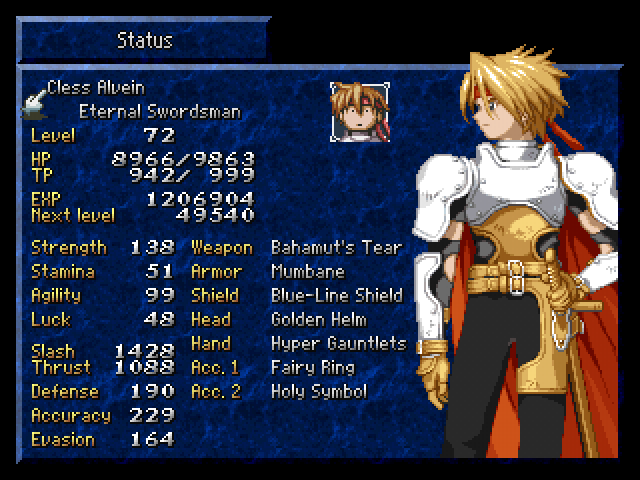 But outside of these few outliers, that are mostly the terrible grinds they are due to the time they came out, I genuinely believe that grinding in JRPG's isn't all that much of an issue.
Mostly because there's something about grinding that is just incredibly addicting. It's rewarding, it's satisfying and it's just so damn exhilarating to rush through hoards and hoards of enemies and get those stats up. As a player, you feel empowered, taking down these countless mobs of monsters as you traverse through their habitat, and on top of that, the effort always feels worth it. Your characters become stronger as a result of grinding. You often gain new items and equipment, all the while amassing a large amount of wealth for your efforts. The time you put into grinding tends to be handsomely rewarded, and makes all that "hard work" feel "worth it". It's this pay off that always ends up luring me into "the grind". I want my characters to become god slaying machines of epic proportions. I want that rare equipment that triples how quickly my Overdrive gauge fills up. I want to acquire a ton of Gald, Gil and Macca to buy more awesome shit for my characters. Grinding rewards me with all of that, and it's freaking awesome.
And on top of this, there are so many games that facilitate the act of grinding and that would cease to be the amazing games they are without grinding. My go to example for this is always the Disgaea series, a franchise of games that I've sunk tens of thousands of hours into. Each game takes around 20 hours to "complete" if you're simply aiming to beat the main story mode. But a Disgaea game doesn't really "start" until the post-game content, which is what your average gamer would consider to be a full on "grindfest" due to how much grinding is required to unlock and complete everything.
With a level cap of 9999 that can be reset with higher base stats, randomly generated dungeons used to level up your items and equipment, tons of side story content and dozens of classes to unlock and master, there's thousands of hours of content per game in this series, and all of said content comes hand in hand with grinding. Constantly. Yet, that content is some of most varied and enjoyable content to come from the JRPG genre, and wouldn't exist if grinding wasn't a thing.
Sometimes, there's nothing more fun than throwing yourself into countless random battles, one after the other, in a JRPG. Be it playing random skirmishes to strengthen your characters in Fire Emblem: The Sacred Stones, clearing hundreds of floors in the Item World to strengthen that awesome sword in Disgaea 5, or participating in a bunch of free battles to recruit stronger demons for your party in Shin Megami Tensei: Devil Survivor, grinding can often be a fun and rewarding experience that is unfortunately overshadowed by a sea of negativity and misguidedness.
Grinding isn't for everyone, and not every game does it well, but to say grinding is nothing more than a shameless means of padding a games length, or that it's flat out "boring" is a fairly baseless criticism in my opinion.
Give grinding a chance.
Just don't lose your life to it like I did.